These days everyone looking for home based works and want to earn online, So Ady Blaze Corporation offered new feature for everyone who want to work online. This is not fake, we are not talking about data entry or ad posting or clicking on ads. We have genuine work, you will work for us and we will give you payments directly in your bank account. Many people already working on reselling. All you need to do is sell our products on social media like whatsapp, facebook, twitter, instagram or where you can sell.
How it works ?
Reselling means you sell our products in your price for example : If we are selling a T-shirt in Rs.299 and you want to resell then download the images and send to your friend or share on whatsapp or facebook and when someone asks about the price tell him your price like 399 or 500. When he want to purchase then place the order on adyblaze.com but remember while doing checkout enter the total amount, if you sold in 500 then enter the total amount as 500 in "Reselling total amount" field. Do not forget to enter your registered mobile number and email in Reseller mobile and email field because we will verify your details.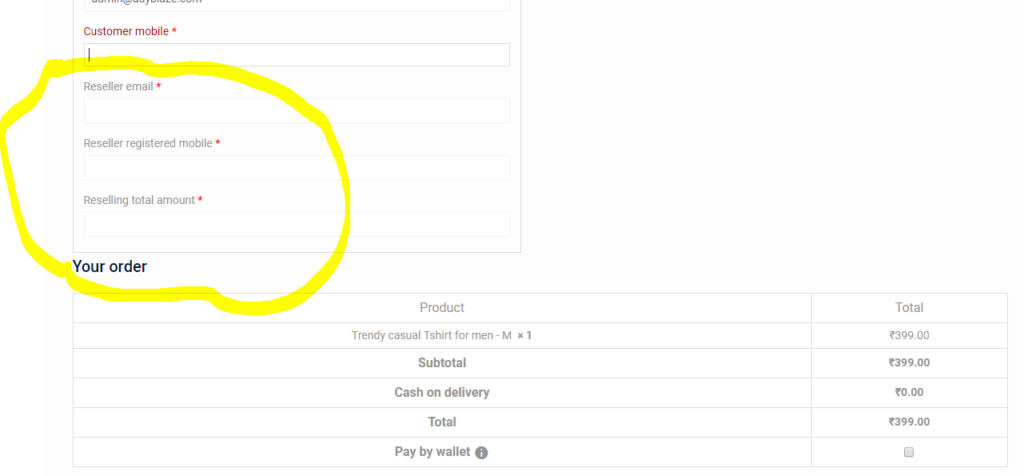 Payment cycle :
We will transfer your payments on every Friday, you will get the payments of delivered orders only. If a product gets returned we will deduct the amount. We will transfer the total amount directly in your bank account via NEFT or IMPS
Not to do :
Do not enter fake mobile numbers and emails, we will cancel the order if we found any mistake. We can terminate your account if found any fraud with customers because we want to keep our website clean and genuine.
Do not enter incomplete address of customer, write full address where order could be delivered easily.
Do not enter your mobile number as Customer mobile number.
Do not enter incorrect pin code otherwise order will be cancelled
How to register as a reseller ?
To become a reseller you can send us email at info@adyblaze.com or you can call us +918881644742 we will create your reseller account manually.
Note :
We can cancel any order anytime if it gets out of stock and we will notify you. We request you to keep our customers happy and give them your contact numbers if they ask. Customer can contact us anytime at info@adyblaze.com or +918881644742